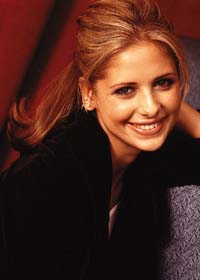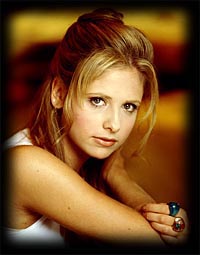 Thanks to the all the people that make the show happen.
I don't think I could live without seeing SMG's fabulous acting.
Buffy the Vampire Slayer
Have new information about BtVS or its cast?
See a mistake or error?
Suggestions are always welcome !


This page supports Netscape 3.0 + and was meant to be seen at 800 by 600 highcolor (16 bit).
<!-COUNT4ALL START->

This many Slayers have visited since this page was uploaded on 9/20/97.

<!-COUNT4ALL END->

Sign My Guestbook
View My Guestbook

Even as I watched the first Buffy the Vampire Slayer promos on the WB, I knew that BtVS would be a force to reckon with. As I watched the episodes, I fell in love with the show, the cast and it's brilliant acting. That is the reason that this page was created; to provide a place where fans of the show could easily gather information and become closer to all of the BtVS actors. We all know that we will never meet them. (Hey, I can hope, can't I? :D)
[What's New] [The Story/Episode Guide] [The Characters] [Articles/Interviews] [By The Fans] [Pics/Sounds/Videos] [The Poll] [Message Board] [Links] [Chat] [Feedback]