The Story/Episode Guide
I'll try to update the episode guide after every new episode.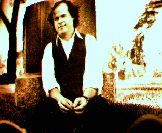 Thanks to Joss Whedon and the rest of his writers for such meaningful scripts.
My episode guide contains short summaries which are supposed to make you want to watch the show.
Sorry, no spoilers whatsoever.
All episodes are rated best from one to five, with one being the lowest and five being the best.
Clicking on the name of the episode will return you to the top of the page.
Go To Main Menu The Story The Faq Episode Guide, Season #1 Episode Guide, Season #2
The Story
Buffy the Vampire Slayer is a on going story about a girl that was chosen from birth to be the Slayer. She is the one with the skills, strength and intelligence to battle all forms of evil and save the world. She is the one standing between the gates of hell and our world. Along with the slayer, comes the watcher. The watcher is a man of vast knowledge of all sorts of lore. Magic, habits of demons, he knows it all. Of course, he has a vast library of old volumes to refer from. He uses he knowledge to train the Slayer in not only physical strength, but mentally also.


This generation's Slayer is Buffy Summers (played by Sarah Michelle Gellar), a sixteen year old girl that is wise beyond her years. Accompanying her is Rupert Giles (played by Anthony Stewart Head) as her watcher. To hide himself, Giles gets the job of librarian at Buffy's school. The series picks up right after the movie of the same name. Buffy, after being expelled from school for burning down a gym full of vampires, moves from SunnyVale to SunnyDale with her mother. Buffy hopes to start over. She wants to forget all her troubles with vampires. She really tries to fit in at SunnyDale High. Along the way, Buffy meets two new friends, Alexander "Xander" Harris (played by Nicholas Brendon) and Willow Rosenberg (played by Alyson Hannigan). The trio, along with Giles, have many adventures and experience some surprises along the way. Now you heard the gist of the story. Interested? Go watch Buffy. Check your local listings for showtimes. Support the show. Just remember, you do matter.


Return To The Top















The Episodes
Welcome To The HellMouth (Part 1) and The Harvest (Part 2) - These two episodes where shown as the two hour pilot of BtVS. This pilot picks up right after the movie of the same name. Buffy Summers and her mother move to SunnyDale, where they hope to make a new start. Buffy wishes to forget all the duties of the slayer, but the powers that be has made her move right into the mouth of Hell! Buffy is sorely needed and once again, she springs into action to stop the master.
I give this episode a 3.5.
First shown on Monday, March 10th. 8-10 p.m. on the WB Network.


The Witch - In this episode, the BtVS writers really get there creative juices flowing. A unpopular student is obsessed with becoming a star cheerleader. Buffy is also caught up with the cheerleader fad and she decides to try out too. Suddenly, members of the cheerleader squad start to have unexplainable accidents. Buffy investigates and finds out the truth about a girl and her mother. In this episode, there is a lot of suspense and at the end, a great ending.
I give this episode a 4.0.
First shown on Monday, March 17th. 9 p.m. on the WB Network and later on Monday, April 21. 9 p.m. on the WB Network.


Teacher's Pet - After a teacher dies a unexplained death, a new beautiful substitute comes to SunnyDale High. Xander takes a fancy to her right away, but Buffy is not so sure that she likes the new teacher. While Xander is head over heels in love with the new teacher, Buffy and Giles investigate the new teacher and find out the truth.
I give this episode a 2.5.
First shown on Tuesday, March 25th. 9 p.m. on the WB Network.


Never Kill a Boy on the First Date - Buffy has her eye on a handsome, poetry loving classmate, while the forces of evil are gathering. This episode shows reality of Buffy's life and how she must deal with being the slayer and a teenager. All Buffy wants is a nice quiet night and a date with a boy. That doesn't happen much for a slayer living on the HellMouth! So Buffy is forced to deal with the evils first, and almost kills her date in the process. Buffy realizes the reality of her life and that she will never be normal.
I give this episode a 4.5.
First shown on Monday, March 31st. 9 p.m. on the WB Network.


The Pack - What seems like a normal, boring, field trip to the zoo has utmost consequences. Xander and four other students are turned into a pack of savages. Can Buffy stop them in time to prevent the loss of their souls? This is a really, really good episode. Xander shows his true feelings for Buffy in this episode by turning on his animal magnetism. Not only is the acting and script in this episode excellent, but the music by Far and Sprung Monkey are great! I especially like Far's song, Job's Eyes.
I give this episode a well deserved 4.7.
First shown on Monday, April 7th. 9 p.m. on the WB Network.


Angel - What a classic episode! Buffy finally meets her mysterious protector. She falls in love with him after he saved her from a group of warrior vampires, named The Three. Angel is hurt by The Three, and Buffy invites him to stay at her house for the night. Giles finds out about Angel's mysterious past and tries to warn Buffy, who he believes is in danger. This episode is the starting point of a shaky relationship. This episode is a must watch.
I give this episode a 4.8.
First shown on Monday, April 14th. 9 p.m. on the WB Network.


I, Robot -- You, Jane - The library is about to be taken over by a computer teacher and her technology. Giles is overwhelmed, while Willow unknowingly releases a demon onto the Internet. At the same time, Willow begins a online romance with a faceless man. Buffy doesn't agree to Willow falling in love with a man that she has never met, and she decides to investigate further, not knowing the danger of the situation. The best part of this episode is the end, so watch for it!
I give this episode a 4.2.
First shown on Monday, April 28th. 9 p.m. on the WB Network.


The Puppet Show - Giles is forced into directing the school talent show by the new principal Synder. Buffy, Willow and Xander also become unwilling participants as a punishment. As the day of the talent show comes nearer, unexplainable killings start to happen. Buffy cannot find an explanation, until a dummy comes into play. Giles realizes that the killings are not the work of normal demons. This episode is suspenseful, especially at the end.
I give this episode a 3.0.
First shown on Monday, May 5th. 9 p.m. on the WB Network.


Nightmares - A young boy has a accident that leaves him in a coma. His spirit leaves his body and he is unwilling to face his own nightmares. All over SunnyDale, everyone's nightmares become reality. Buffy and her friends must convince the young boy to wake up and end the chaos and confusion in everyone's lives. Will they wake the boy before one of them falls to the hand of their nightmares? This is the best episode of BtVS. I have watched this episode three times, and I still find it enjoyable.
I give this episode a 5.0.
First shown on Monday, May 12th. 9 p.m. on the WB Network.


Invisible Girl (a.k.a. Out Of Mind, Out Of Sight) - A girl that has been ignored, turns invisible. She vows to get revenge on all the people that ignored her. Accidents occur all over. A boy is beaten by a bat, a girl is pushed down the stairs. Will Buffy find and defeat this invisible opponent before she gets her? I like this episode for some of its quotes and the ending. Even though this episode is not one of the best, you should still watch it. After all, you get to see all your favorite actors and actresses, such as SMG :D.
I give this episode a 2.2.
First shown on Monday, May 19th. 9 p.m. on the WB Network.


Prophecy Girl - This is the end to season number 1. As Sarah Michelle Gellar said in her interview with Parade Magazine, "We had a grand finale, and I'm so proud of it. It's in itself a full feature film." This episode was exciting. I was on the edge of my seat for this one. The WB did a good job promoting this episode. Okay, on with the description. Giles is hard at work translating the Codex, a old book full of prophecies about the Slayer. He finds out that Buffy must fight the master to the death, her own. Buffy doesn't want to die, so she gives up her duties as the slayer. She goes off on her own and thinks about her dilemma. Meanwhile, Willow finds a group of boys dead and she is traumatized. Buffy decides to fight the master. Will the prophecy come to pass? SMG does a great job portraying a troubled girl that doesn't want to die. A fabulous performance, a definite must watch for SMG fans and Buffy fans alike.
I give this episode a 5.0.
First shown on Monday, June 2nd. 9 p.m. on the WB Network.

When We Were Bad - This has been a long awaited episode. Rumors about this episode and the new season of BtVS have been circulating for weeks. This episode is very good because it goes into the background of the glamorous world of vampire slayage. Buffy, at first, is like a whole different person. She is like Bitch incarnate. Buffy has many unresolved issues floating around and must solve them before it is too late. Will she solve them before she gets the people around her killed? Even though I thought the story for this episode was sort of weak, I still enjoyed it. It shows that Buffy, even though she is tough and strong, has a real person behind her. She is traumatized from the fight with the master and it shows. An excellent job by everyone on the BtVS cast.
I give this episode a 4.2.
First shown on Monday, September 15th. 9 p.m. on the WB Network.

Some Assembly Required - A fallen football star and a brilliant anatomy student. How do they go together? As the big football game nears, Angel and Cordelia stumble upon a dumpster full of cut up body parts. Two students driven by purpose, conjure up a scheme to build the woman of their dreams.....with Buffy and Cordelia being the final pieces! Even though this episode was weak, I enjoyed it because of some great character development between the whole cast. The love triangle (I can't call it that anymore, for it has developed into something greater), now encompasses everyone on the main cast. I really liked it when Giles and Mrs. Calender got together....
I give this episode a 3.7.
First shown on Monday, September 22nd. 9 p.m. on the WB Network.

School Hard - In this episode, two new vampires move into town. They are Spike and Druscilla, two vampires that have fought two Slayers....and won. These vampires are so powerful that even the anointed one falls to them. Unfortunately for Buffy and her friends, Spike attacks during parent/teacher night. Buffy must hide the fact that she is the Slayer to her mother and do her duty at the same time. Will she succeed? This has been the best episode so far. It has a lot of action sequences and some character development. Buffy, using her wits and strength slowly defeat the vampires, one by one. Finally she fights with Spike, who is renowned for killing Slayers and torturing his victims with railroad spikes. In the end, who helps Buffy overcome Spike and his minions? That's what you have to find out..... Buffy really comes into her own in this episode.
I give this episode a 4.9.
First shown on Monday, September 29th. 9 p.m. on the WB Network.

Inca Mummy Girl - A school field trip turns quickly into disaster (It's SunnyDale, what can you expect?). A student unknowingly triggers the awakening of a five hundred year old, life sucking mummy, who looks like a beautiful exchange student. The exchange student, named Ampata, is staying at Buffy's house! Xander falls hard for Ampata and Willow decides to move on. Ampata reveals her true self and Xander's feelings for Willow, overcomes his feelings for Ampata. This is a surprisingly well crafted episode. This ep explores Xander's disastrous luck with girls even further. The character development between Xander and Willow is great! Once again, Buffy's sacrifice of a social life is even more defined and I really, really like the wardrobes for Alyson and Sarah in this episode.
I give this episode a 4.4.
First shown on Monday, October 4th. 9 p.m. on the WB Network.

Reptile Boy - Young teenage girls a randomly disappearing. A ID bracelet is found, but its importance is not realized. Buffy feels dejected from Angel's brushoff, so when asked to go to a Frat party by Cordelia, she agrees. In the midst of her sadness, Buffy shirks from the duties of the Slayer. Unfortunately, at the Frat party, all hell breaks loose as Buffy and Cordelia run into major trouble. This episode showed some huge sparks between Angel and Buffy. I love it when Angel freaks when he hears Buffy is in trouble. Angel gives into his desires and finally confirms his love for Buffy. Could this be a preview of what happens next?? Also, Willow was given a good monologue at the end of this episode. She gets to yell at Angel and Giles for unfeelingly alienating Buffy. That part was really great. For all you Xander fans out there, you must watch this episode. Xander is everything he is supposed to be, witty, funny, and at Buffy's side.
I give this episode a 4.7.
First shown on Monday, October 20th, 9 p.m. on the WB Network.

[Home] [What's New] [The Characters] [Articles/Interviews] [By The Fans] [Pics/Sounds/Videos] [The Poll] [Message Board] [Chat] [Links] [Feedback] [Return To The Top]


Buffy the Vampire Slayer,