Links
This is only a few of the many BtVS sites in existence.
If your site is not listed, follow the instructions below and I will add your site to this page as soon as possible.
In the body of the email, type your name, email address, the URL of your site and the category you wish your site to be placed.
Send a email to Judge2119@Juno.com.
If you find any dead link (s), email me and I will have the link (s) updated.

Clicking on the category of links will return you to the top of the page.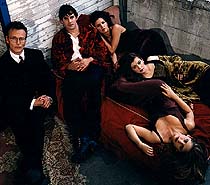 General
Sarah Michelle Gellar Anthony Stewart Head Nicholas Brendon Alyson Hannigan David Boreanaz Charisma Carpenter
Fanfics Clubs Miscellanous Go To Main Menu

























The Bronze Website: The New Revolution In Web Pages

Buffy the Vampire Slayer (Official Page)

Buffy the Vampire Slayer AVI Downloads

SunnyDale's High School Library

VampKira's Buffy The Vampire Slayer Page

X-Lander's World of Buffy the Vampire Slayer

YTV - Buffy The Vampire Slayer




Buffy's Lair

Illuminations Of Sarah Michelle Gellar

Sarah Michelle Gellar Fan Page

The Sarah Michelle Gellar Fan Webring

The Sarah Michelle Gellar Shrine

The Sarah Michelle Gellar Unofficial Web Page

The Official "Buffy: The Vampire Web Site" Page for Giles

Rupert Giles, Master Librarian

WorstWitch's "Buffy The Vampire Slayer" Pages




Come on webmasters! We need some more Xander/Nicholas Brendon pages!
The Xander Clubhouse




The Slayer's Nest

Welcome to the Willow's Computer

Willow Rosenberg, Hesitant Hacker




The Angel Fan Ring




Charisma Carpenter

Buffy The Vampire Slayer & Co.




Buffy the Vampire Slayer Fanfics

Buffy the Vampire Slayer Fanfic Vault

Fanfic Resources - Buffy, the Vampire Slayer




We need more BtVS fan clubs! I'm thinking of starting one myself, but we need everyone in the act!
The Slayerettes Club

Buffy the Vampire Slayer Episode Guide

The Buffy The Vampire Slayer Mailing List

Buffy the Vampire Slayer Quotes

Buffy the Vampire Slayer Unofficial FAQ v1.0

Buffy the Vampire Slayer Webring

Willow's "Buffy: The Vampire Slayer" Pages







[Home] [What's New] [The Story/Episode Guide] [The Characters] [Articles/Interviews]
[By The Fans] [Pics/Sounds/Videos] [The Poll] [Message Board] [Chat] [Feedback] [Return To The Top]


Buffy the Vampire Slayer,